Do you remember making homemade ice cream as a kid? I remember we had one of those crank machines that took FOREVER to produce about 2 bowls of ice cream. By the time you were done doing hard labor cranking the machine, you were almost too tired to eat it! Almost…. Though I do specifically remember the taste of how amazing it was compared to the stuff that you buy at the grocery store.
It's incredible to me how expensive that ice cream has gotten. It's worse than GAS at $6 or $7 bucks per gallon. And just like we have to get around in our cars, we have to feed our ice cream cravings. Especially in the summer.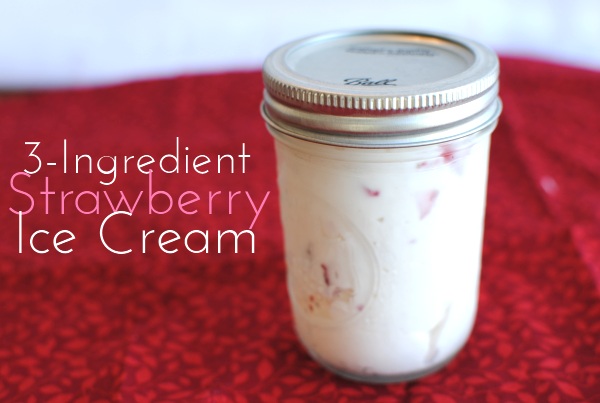 I'm going to go ahead and tell you that you'll probably want to go out and buy some mason jars if you don't already have some. It's not good (I'm so ashamed), but sometimes I inhale eat ice cream straight from the carton with a fork. Yeah the fork thing came from my dad. It's how he always eats it and I've just picked it up too. The mason jars are a great way to prevent overeating and make great portion control. It's always great to have your own personal container. Less feels like more that way.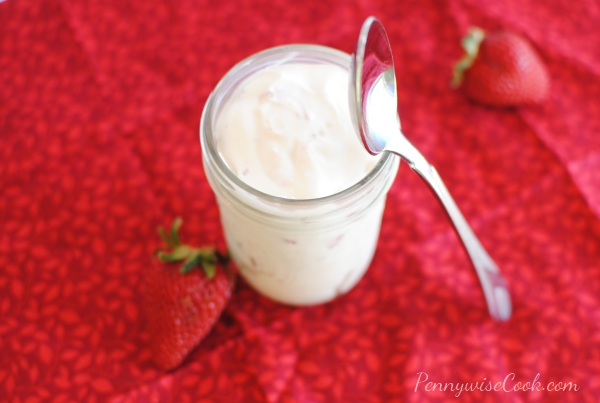 This recipe only involves 3 ingredients and is so perfect every time. I cannot believe that I didn't figure this out earlier. And by the way, you won't need one of those horrible hand-crank ice cream machines for this recipe. Just an appetite for smooth and creamy strawberry ice cream. You can always use another fruit of your choice.
I will never go without homemade ice cream again!
Recipe courtesy of Fat Girl Trapped in a Skinny Body.
3-Ingredient Homemade Strawberry Ice Cream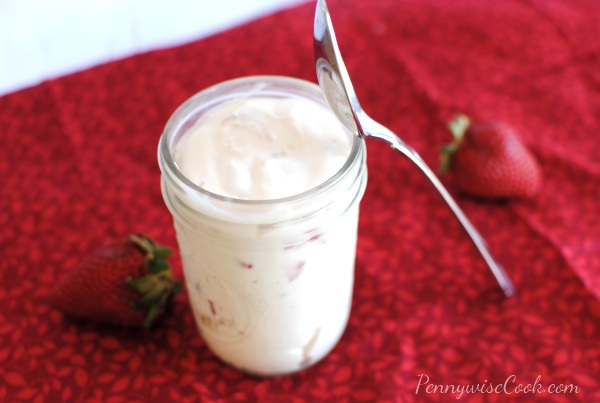 With very few ingredients you can make the most amazing (and easy) strawberry ice cream!
Ingredients
1 (14 oz) Can Sweetened Condensed Milk- I used Fat Free and it works!
2 Cups Heavy Cream
2 Cups Strawberries, Chopped- Measure them out and them chop or puree them
Method
In a large bowl using a hand mixer, whip the heavy cream until soft peaks form. Just about to where it gets stiff.
Add in the sweetened condensed milk and whip for another minute or so.
Fold in the strawberries and pour into freezer containers or mason jars.
Notes
I used my KitchenAid stand mixer to make this and it worked very well!
I chopped my strawberries this time, but next time I plan to puree them. I liked the large bits of strawberries, but I think it would taste more strawberry-y if they were more pureed.
If it's really hard when you take it out of the freezer, just set it out on the counter for a few minutes and it will soften up a bit.
I'm going to try this with oreos soon for Cookies and Cream ice cream!
It tastes almost like soft serve and it's fabulous!
http://pennywisecook.com/3-ingredient-strawberry-ice-cream/
This post may contain affiliate links. You can read more about this in my disclosure policy.
Like this post? SHARE it!