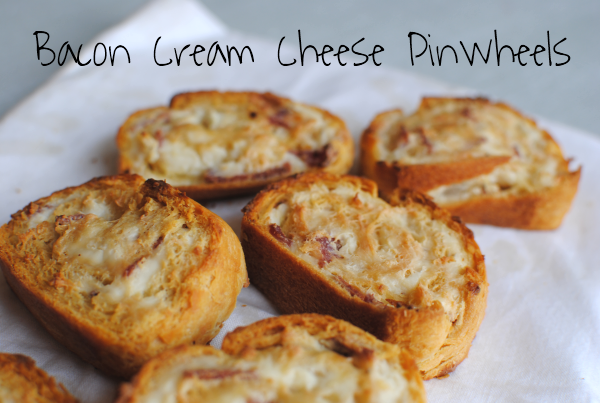 How was your weekend? Our goal since our yard sale a few weeks ago has been to clean out the garage. Has it happened yet? Nope. I will get my van back in the garage before it's all said and done! I have to!
Do you park in your garage or am I the only one with junk taking over?
I came across this recipe in a company cookbook that I've had for years. If I could link to this book so you could get a copy, I would. It's a great cookbook. I just love ones like that from folks that you know have amazing recipes.
This week I gave Addie a little break from eating peanut butter and jelly sandwiches by making her up some of these Bacon Cream Cheese Pinwheels! She was less than enthusiastic about eating them when she saw me preparing them.
"Moooooooom, I don't want onions in mine." She said. Somehow I knew that was coming the moment that I began to chop. Even still, I had confidence that she was going to like these with onions and all.
These snacks are so easy to make and have awesome flavor. Bacon, onions, and cream cheese all melt together inside a crescent roll. Hello! You simply mix up a block of cream cheese along with some crumbled bacon (or even bacon bits) and chopped onions and slather it onto some pinched together crescent rolls.
You can almost always find a coupon for Pillsbury Crescent Rolls here. Combine it with a sale and you have a deal!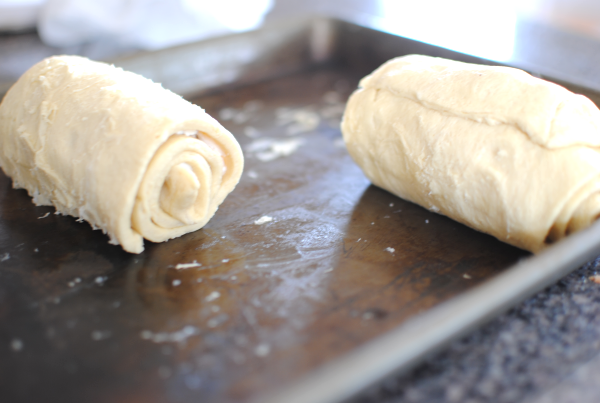 After the slathering process, roooooooooooooll the gooeyness up into 2 little bundles of goodness. Then slice them into separate pinwheels.
Note: I tried baking these before slicing them and trust me, you will want to slice them BEFORE you bake them. They cook much faster and get a better crust.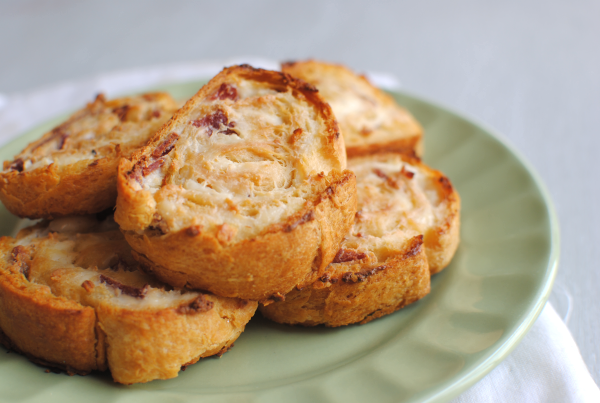 In a matter of minutes you have crusty, cream cheesey pinwheels. These are perfect for a snack, lunch, and even appetizers for a party!
And for the record, Addie LOVED them. Daddy did too. The onions add flavor without being very onion-y.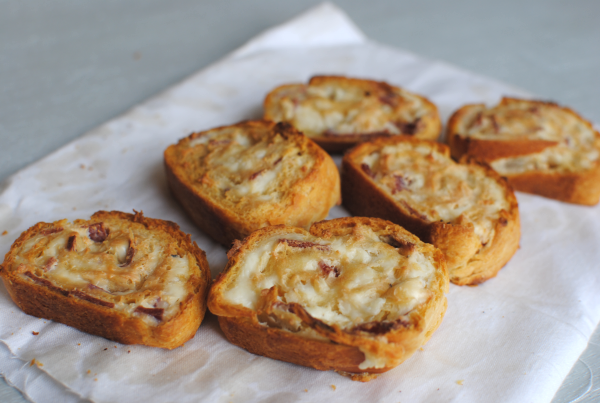 | | | |
| --- | --- | --- |
| Bacon Cream Cheese Pinwheels | | |
Recipe type:
Appetizer, Snack
Author:
Spice up your everyday crescent rolls by rolling up bacon and cream cheese inside!
Ingredients
1 Pkge (8 oz) Cream Cheese, Softened
1/4 c. Crumbled Bacon
2 Tbsp Chopped Onions
1/2 Tsp. Black Pepper
1 Can Crescent Rolls
Instructions
Preheat oven to 350 degrees.
Combine cream cheese, bacon, onions and pepper together. Set aside.
Separate crescent rolls into 2 rectangles by pinching the seams together.
Spread mixture onto each rectangle and roll up from the long end.
Bake for 15 minutes or until golden brown.
Like this post? SHARE it!