Today I'm going to address a meaty ingredient that folks often overlook when it comes to making meals.
Canned tuna.
No, it's not glamorous. Quite the contrary, the very thought of it is not appealing at all to me. When I pop open a can, I feel like I'm about to feed a cat, not make dinner. But undeniably, it's a cheap meat. I don't really mind the taste, as long as it's covered with cheese or mayonnaise or mustard. I even love a good old-fashion tuna sandwich every now and then. Will my husband eat one? No. Will my kiddo eat one? No.
Enter Cheesy Broccoli Tuna Casserole. I adapted this recipe a little from this cookbook.
I'll go ahead and warn you though, if you have tuna haters who can't stand tuna, this probably won't change their tune. It's not one of those kinda casseroles. But it is quite tasty and a great way to save a little money using affordable pasta, meat, and veggies.
One of my favorite things about this dish is that you can microwave it instead of firing up the oven. That's always a plus to me.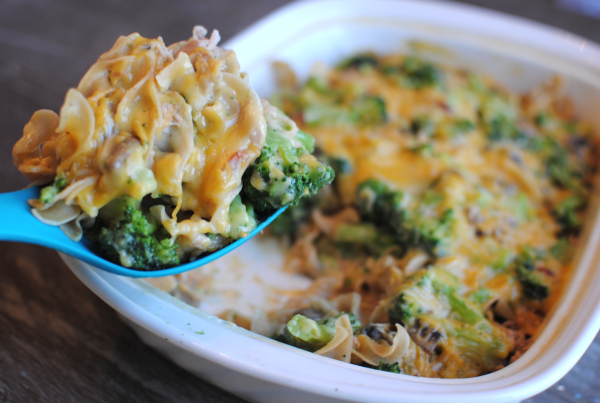 It's funny, my daughter was eating it and she couldn't quite put her finger on what was in it. She was blind-sided by the yummy cheese and broccoli (this is what makes this one so sneaky!) and didn't realize that there was tuna inside. She then said "Ew, fish!" and gave me the oh-so-famous "I don't like it.". I told her to just pick out what she didn't like. She once again stated that she didn't like the tuna part.
Later on, washing the dishes I found nothing but pieces of mushroom on her plate. She didn't even know that she was actually eating the tuna and not eating the mushrooms. So the moral of this story is that from now on, I'll make this dish without mushrooms.
And p.s.- be prepared to have your entire kitchen smell like tuna. If you figure out a way to avoid that, please let me know!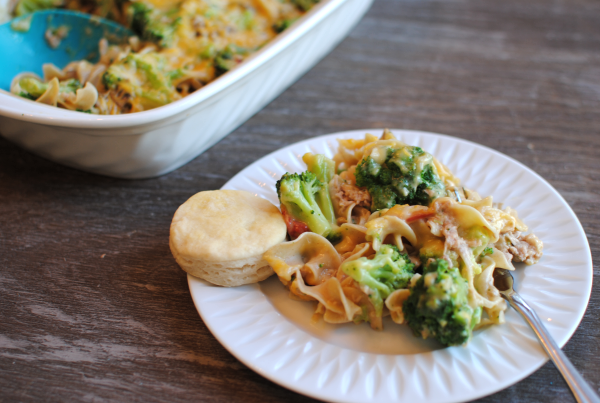 | | | |
| --- | --- | --- |
| Cheesy Broccoli Tuna Casserole | | |
Author:
Affordable canned tuna makes up a very simple yet tasty supper!
Ingredients
10- 12 oz Wide Egg Noodles
10.75 oz Can of Cheddar Cheese Soup
5 oz Evaporated Milk
1 tsp Onion Flakes
2 Cans Tuna packed in water, drained
4 oz Mushroom Pieces, Drained (optional)
16 oz Frozen Broccoli, Thawed (I used steamfresh)
Instructions
Preheat oven to 350 degrees. In a large pot, boil noodles according to package directions. Drain and set aside.
In a small bowl, combine cheddar cheese soup and evaporated milk. Add onion flakes and mushrooms.
Layer 1/2 the noodles in the bottom of a 9×13 baking dish. Crumble 1 can of tuna over the top of the noodles. Add 1/2 of the broccoli and then pour 1 cup of the sauce on top of that. Repeat layers ending with the rest of the sauce.
Top with a sprinkle of shredded cheese if desired.
Bake for 20 minutes.
Microwave version- assemble as above. Then microwave on high for 8 minutes. Then reduce power to 50% and microwave another 5 minutes.
Like this post? SHARE it!