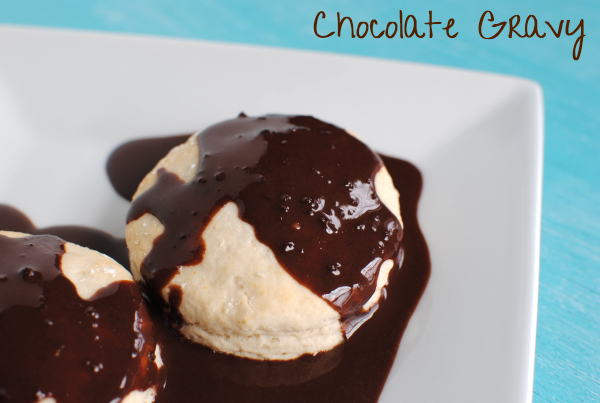 Some recipes come from the back of a can. Others are found in a favorite cookbook. You can even find some pretty amazing recipes just by Googling it. But some of the very best recipes in life are found passed down from relative to relative. You know the ones that are tried and true and your great grandma spent her time perfecting. These are some of the best recipes known to man.
My mom recently whipped up a very tasty concoction that apparently has been made by our family for years. And yet, I had never even tried it!
This isn't just any concoction either.
We're talking….
Chocolate. Gravy.
Yes it does exist and I was never told about this until just recently. My sweet grandma just published a book about her life (very interesting read!) and she even talks about this chocolate gravy on her book. So needless to say, I had to make some of this famous chocolate gravy.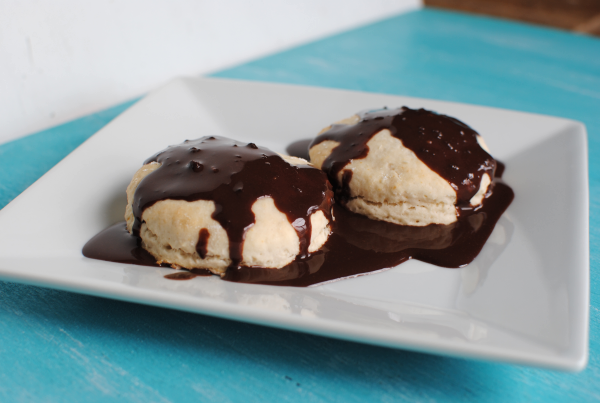 Turns out that this recipe was created by my great aunt Janice! It has been a hit for years and she's the lady behind the chocolate. She also created a chocolate pie that I'll be trying out real soon.
I'm not going to lie to you. I screwed up this recipe the first time I tried it. Thinking that I would get all smart, I started with milk and butter and added in the flour mixture. Why did I do that? I have no idea. Everyone knows that any rue starts with butter, you add in flour and THEN the milk. After coming to my senses, it turned out perfect. Being me, I also reduced the amount of sugar from 2 cups to 1/2 cup and it still turned out plenty sweet.
My hat is off to great aunt Janice! This gravy is the perfect chocolatey complement to a couple of morning biscuits. Or perhaps to a bowl of ice cream. Anything that you want to chocolatize really. I loves it on biscuits and I think it would make an awesome topping for cinnamon rolls instead of glaze.
Interested in trying out this spectacular chocolate gravy? Find the recipe below!
Biscuits and CHOCOLATE gravy for breakfast!
Ingredients
1/2 c. Sugar
6 Tbsp Cocoa
Dash of Salt
1/4 c. Flour
1/2 c. Milk
2 Tbsp Butter
Method
Mix all dry ingredients together in a medium size bowl.
Melt butter in a small saucepan over medium heat. Slowly stir in cocoa/flour mixture.
Slowly stir in milk and simmer over medium heat for 2-3 until combined.
Remove from heat and gravy will thicken as it stands.
Notes
This makes a great topping for cupcakes, fruit, biscuits, and even ice cream.
http://pennywisecook.com/chocolate-gravy/
Like this post? SHARE it!