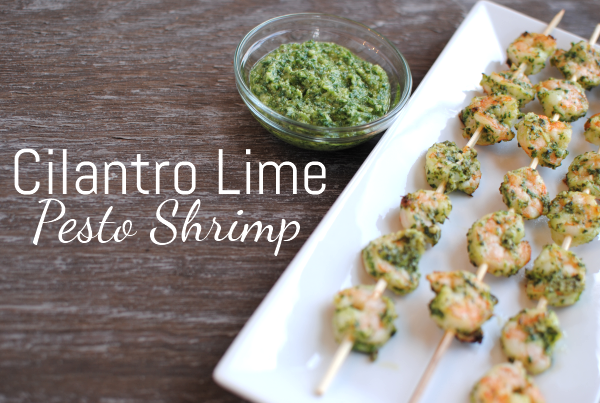 You just know it's summer when you can begin smelling people in your neighborhood grilling out. It's such a awesome smoky smell. My husband is convinced that once the weather turns warm that it's time to bust out the grill several times during the week. And I am completely fine with that. As long as we're not eating gigantic steaks every night. Not only is that difficult on the wallet, but I do like a little variety now and then.
So needless to say, we've been getting a bit creative with what we grill. I think that it's funny because unless it's a steak or a huge tray full of hamburgers, hubby thinks it may not be worth turning on his grill for. Can you imagine what he thought when I suggested that we grill a few shrimp skewers?
Not to mention that these so called shrimp would be covered and marinated in a word that I have yet to introduce to my clan….pesto. Ah yes pesto. The shiny, slimy, green concoction that people eat over pasta or as part of some fancy meal. I had my work cut out for me when I decided to go the pesto route. But I was determined and excited to give it a try.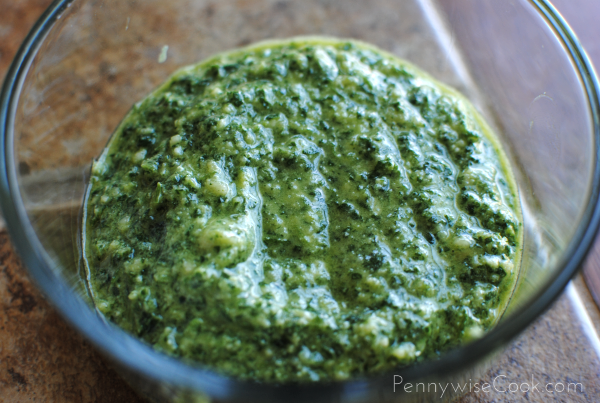 Exchanging the regular greens in pesto with cilantro and instead of using those ridiculously expensive pine nuts, I used slivered almonds. Giving this sauce the once over, hubby literally just looked at it once. He was not too excited about it. However, little did he know that his very shrimp that night would be slathered, soaked, and bathed in that slimy green mixture.
Not very long story short, he loved it! Can you believe it? I think one key factor in pesto that makes it appealing is the amount of parmesan cheese that you put in it. And the lime in this recipe really did wonders for the shrimp.
I even caught him dipping his marinated and grilled shrimp in the leftover pesto sauce! I can't say as much for my daughter. I purposely left the pesto off of hers and she was content with her's being plain. These were such fantastic and light shrimp that would be absolutely amazing on a shrimp taco.
Cilantro Lime Pesto Shrimp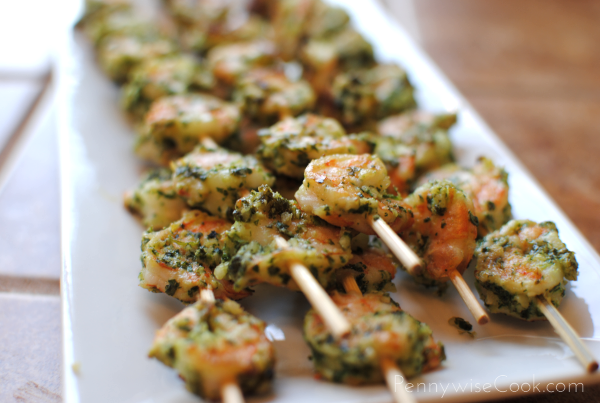 Celebrate summer with this light and zesty cilantro lime shrimp!
Ingredients
40-60 Medium shrimp, peeled and deveined
2 Bunches cilantro
Zest of 1 Lime
Juice of 1 Lime
2 Tbsp Slivered Almonds, toasted- optional
1/4 cup Grated Parmesan cheese
1- 1 and 1/2 C. Olive oil
Salt and Pepper to Taste
Method
Soak skewers in water for at least 15 minutes prior to grilling shrimp.
Place all ingredients except olive oil in food processor until chopped.
Slowly drizzle in desired amount of olive oil.
Place peeled shrimp into a bowl with HALF of the pesto. Set the rest aside.
Marinate for at least 1 hour.
Place the shrimp on skewers and grill for around 2 minutes on each side.
Serve with remaining pesto.
Notes
Toasting the almonds is completely optional. I didn't actually toast mine and it still tasted great.
http://pennywisecook.com/cilantro-lime-pesto-shrimp/
Like this post? SHARE it!