I met a sweet girl the other day who was pretty far along in her pregnancy. She already had a little boy and was expecting a brand new little girl soon. We got into talking about cooking (as I cannot help but do) and she described her desire to cook but the lack of time that she had to devote to it. I told her about my love for the crockpot and she made a statement that had my jaw on the floor. She said that she had only ever made one meal in the crockpot.
I know, I know. You can pick your jaw up off the floor now.
It is a little hard to believe, but I think that the norm may be that people think that crockpot means work. When in reality, it's the opposite. When I'm planning my meals for the week, I plan crockpot meals on those nights that I know will be hectic and too busy for cooking up a meal. If I was smart, I'd make a crockpot meal every night because inevitably most nights end up crazy around here. But the nights that I do make them, it makes life oh so much easier.
Take these super yummy French Dip Paninis for instance. A french dip is definitely a slow cooking process. What makes them so dadgum yummy is that they are tender and juicy so the crockpot is the absolutely perfect way for making the perfect french dip.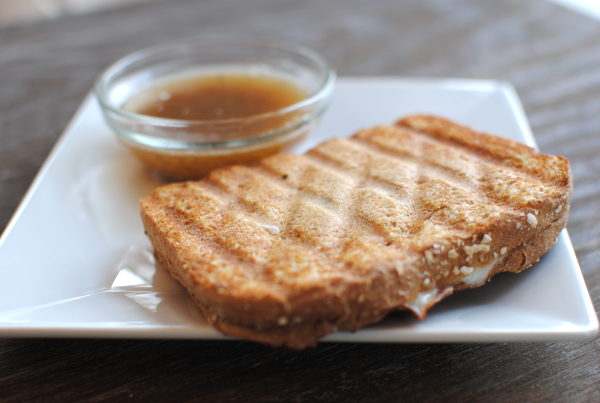 Looking at this panini, you'd never even know that it was packed full of slow cooked, juicy, tender beef and covered in melted provolone cheese…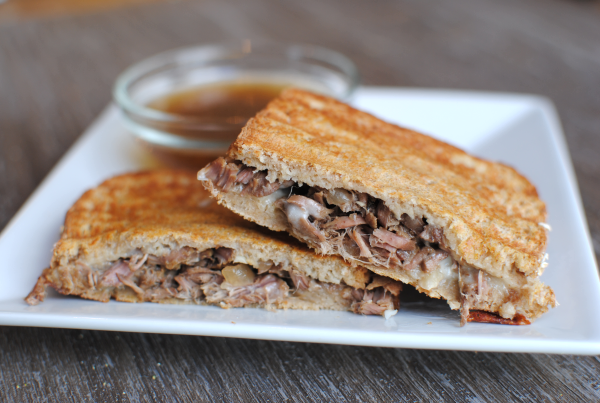 Ah yes, here's a better view. You can even see a few onions peeking out. I originally planned these to be crockpot subs, but alas the clearance onion buns that I got at Walmart that day were molded by the time I was putting sandwiches together! So I settled on our wheat bread and sprayed it a few times with I Can't Believe It's Not Butter. Then I grilled it a few moments on the George Foreman grill.
No need for an expensive panini press, use your George!
And when it comes to meat to make these french dips, use whatever you can find cheap at the store. I used sirloin tip steak this time, but I may use chuck roast next time. I just grab whatever I can find a good deal on. After the slow cooking, it will all pretty much taste the same.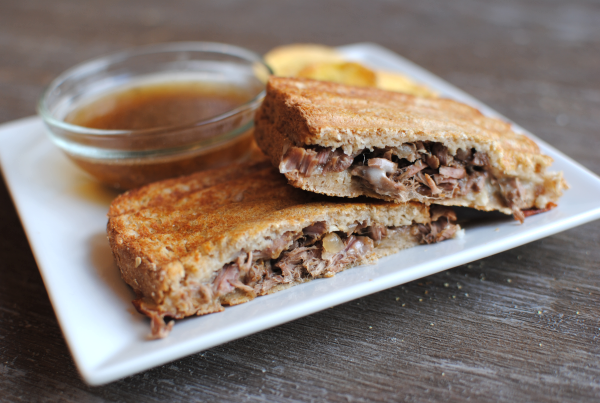 These are a huge hit and a go-to meal for those nights when you don't want to do any real work in the kitchen.
| | | |
| --- | --- | --- |
| Crockpot French Dip Paninis | | |
Recipe type:
Main Dish, Crockpot, Lunch
Author:
A french dip is as easy as pie when you make them in your crockpot!
Ingredients
1.25- 1.5 lbs Cut of Beef (Your Choice)- Could use Round Steak, Chuck Roast, Sirloin Tip, etc.
2 c. Low-Sodim Beef Broth
1 Medium Onion, Sliced to Thick Rounds
2 Cloves Garlic, Roughly Chopped
2 Tbsp Worcestershire Sauce
Salt and Pepper
1/2 Tsp Italian Seasoning
8 Slices Wheat Bread
4 Slices Provolone Cheese
Butter Spray
Instructions
Placed onions into the bottom of crockpot. Mix together beef broth, garlic, Worcestershire sauce, salt, pepper, and Italian seasoning.
Place beef onto onions and pour broth mixture over beef.
Let cook on low for 5-6 hours. 30 minutes or so before eating, take out beef and shred and continue cooking.
To make panini, place a scoopful of beef (drained) onto piece of bread. Top with a slice of cheese then second piece of bread. Spray a few times with butter spray on each piece then place on panini press or George grill for a minute or two.
Notes
To be completely honest, I can't remember if I used 1 or 2 cups of beef broth. I'm pretty sure that I came back and added that second cup because I was concerned that the beef needed more liquid to cook in. You might add 1 cup and see if that is enough and if not add the 2nd cup. Forgive me, forgot to update my recipe as I was going along.
You could also use a can of beef consume in place of the beef broth for a thicker consistency. I plan to try that out very soon. If you do before I do, let me know what you think!
Like this post? SHARE it!