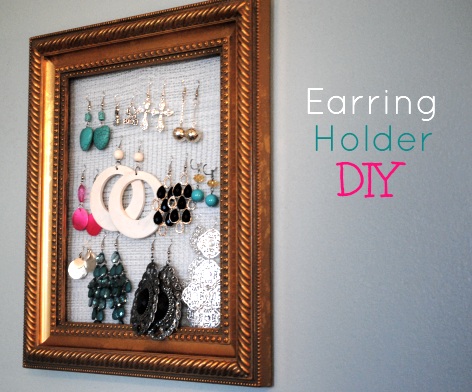 For anyone who knows me, they know that I'm a huge earrings fan. I don't spend much money on my earrings because they always get lost (or taken and sat on by my oldest). When you buy a pair to match all your outfits they start to pile up and it's just plain hard not to lose them. Especially when you have a frantic and frazzled mind like myself. I've been keeping them in a little box for the last few months and it's working out ok, but to be honest no more will fit. It's that full. What prompted this project was a friend on mine on facebook who made one with chicken wire. I love the look of that, but I'd much rather work with fabric than wire. I've seen a few DIY projects on how to create an earring holder yourself so I thought I'd give it a shot.
And yay, here's me with some of my dagglier earrings. I know I posted a picture of myself (with Cynthia Sass) yesterday, I promise I'm not full of myself. Just let me know if you get tired of seeing my mug.

The pictures that I have to document this project are darker than I wanted them to be, I apologize. Like I've said before, I'm trying to get used to this photography thang and it's still a work in progress.
Here's the frame I found at Goodwill for $1.99 (woot!). It's surprising, but they have really gone up on their frames. Most of the others that I found were at least $4.99 each. Sadly enough, you can do better than that at Walmart these days so why waste your time getting one used anyhow? Back to the frame- this one was in perfect condition so I went for it. It's an 8X10, but you can use any size that you'd like. It all depends on how many earrings you plan to hold. And you may have one at home that you don't use anymore, that's even cheaper and super smart.
When I got home, the intention was to paint it brown to match the furniture in our bedroom but after holding it up in the room it actually fit it quite nicely even being gold.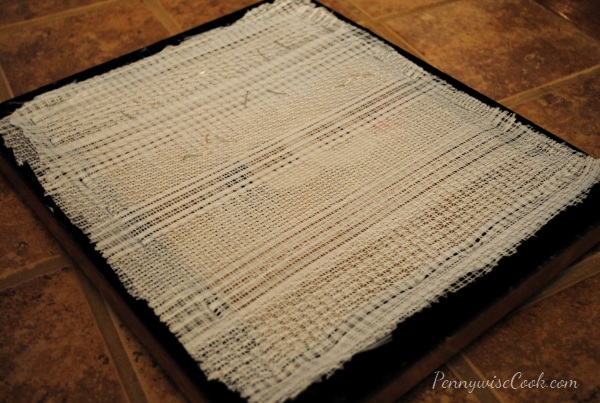 I also picked up these really ugly, yet perfect curtains to be the backing for the earring holder. They seriously were hideous, but they were white and hole-y so I thought they would work well. I removed the back of the frame and using a staple gun, I just pulled and stapled the curtain fabric tightly across the back of the frame. I actually did a double layer of the fabric to thicken it up a bit and give the earrings a little more to cling to.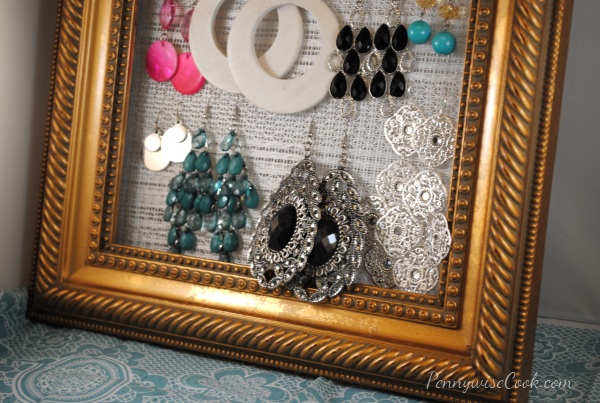 It turned out as good as I could have hoped. Speaking of hope, I'm praying that all of my earrings are going to fit on this thing! My husband thinks I'm going to have to make another one. I'm afraid that I might have to as well.
Cost breakdown:
Frame- $1.99
Curtain- $2.49
Total= $4.48
I love the way that this looks on our wall. It's almost like an antique with a modern twist. Shabby Chic we'll call it! And the sky is the limit on the fabrics and frames that you could get to match your decor. That's what I love about DIY projects. Sure you can go out and buy something already completed, but sometimes you have to make sacrifices because things aren't always customized for you.
I know this isn't a "recipe" per say, but I'm going to put it in this format in case you want to print it out. It's simple enough, but I know how having it on paper can make things easier sometimes!
If you know someone who might like this DIY project, be sure to Pin It below!!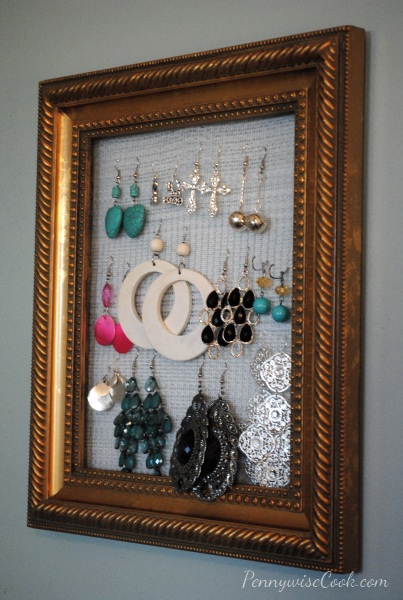 Ingredients
Frame- Your Choice of Size
Fabric for the Back- Ex. Lace, Mesh, Burlap, Etc.
Staple Gun
Paint (Optional)
Method
If necessary, paint the frame FIRST to the color of your choice.
Remove the backing from your frame. (Keep in mind that if your frame's hanging mechanism is on the backing, you'll need to find another way to have it later.)
Cut your fabric to just more than the size of your frame. Stretch it tight and staple it to the frame along the edges.
Attach your earrings and you're done!
Notes
If you don't have or want to invest in a staple gun, you may be able to use a hot glue gun as well. That may work in a pinch, but a staple gun is recommended for maximum support.
http://pennywisecook.com/diy-framed-earring-holder/
Like this post? SHARE it!