Have you finished all your Christmas shopping yet? No? Shame on you! HA!
Totally just kidding you. I haven't gotten anywhere close. This year has been a whirlwind and I've felt about a month behind each holiday as they come. So if you're like me, then you'll really enjoy this last-minute gift idea that takes no time at all and comes straight from your heart.
I can't take the credit for this one, I came across it the other day at Happy Go Lucky and thought I have got to do this! I had seen the idea of it on Pinterest before, but wasn't sure that it worked. So I was glad to have found proof that it does.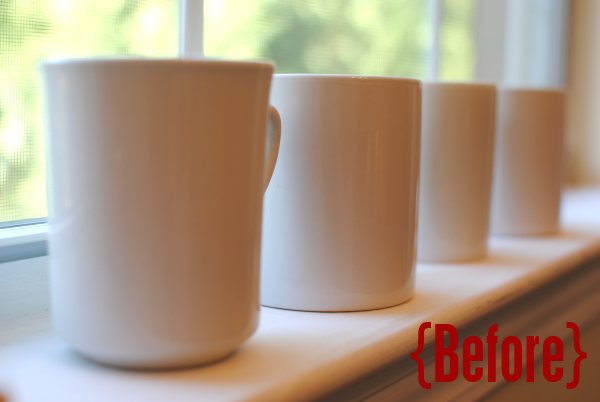 To try this out for myself, I didn't want to spend a bundle on mugs. Even Dollar Tree is a bit expensive per mug for me. So I ran into Goodwill where there were a ton of white mugs. Whodathunkit? It was meant to be! $.49 per mug and you just can't beat that, even with a stick.
It's as simple as using a permanent marker to write, draw, or color on your mugs and then pop them into a preheated oven for 30 minutes. That's 350° in the oven to be exact. When they come out, the marker has been baked into the mug making it permanent!
So easy and yet so thoughtful. Even the kiddos can make their own. Get creative and have fun! You can make these for any occasion as well. Add a heart for Valentine's Day or an egg for Easter. Whatever suits your fancy.
In the meantime, Merry Christmas!
UPDATE: I did just want to mention that after putting these through the dishwasher, my orange permanent marker turned hot pink! Not sure if it's the brand that I used or what, but it's worth noting.

This post may contain affiliate links. You can read more about this in my disclosure policy.
Like this post? SHARE it!