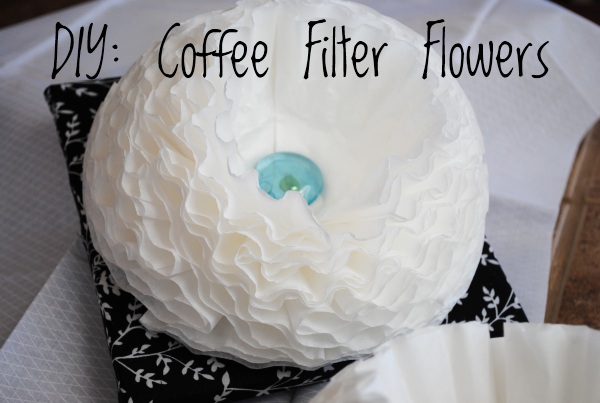 I've really been working on spending more time away from the computer. I think that looking at a computer screen and being so deep into social media and facebook (etc.) can really start to drain your brain. I find that spending part of my day completely unplugged really helps me to just feel better overall and that I can devote time to family and fun.
My mom called me Becky Homecky the other day….. I'd never actually heard that phrase before. She was surprised, but I honestly hadn't. I knew what it meant immediately and I would consider it a compliment. Thanks mom! But as I pondered what exactly that meant, I began to think that I'm not really a Becky Homecky after all. I just like to cook. I HATE to clean. I intensely despise doing the dishes, but I like vacumming. Kinda weird huh?
I came across this idea for Coffee Filter Flowers on Creature Comforts and got a little giddy about this craft because I thought hey, I can totally do that! So I did. These are so super easy and they make me feel like a true Becky Homecky, y'all.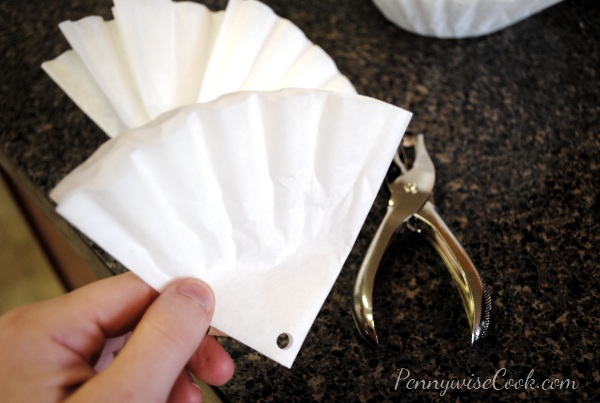 Coffee filters cost what? Like $1 at the dollar store! You can't beat that price for a homemade flower.
What you need:
22 Coffee Filters
Metal Brads or Brass Fasteners (I found them at Walmart for around $2.50)
Button, jewel, or ornament for the center (I used marble jewels that I got at Dollar Tree)
1) Fold the filter in half. Then in half again. Punch a hole with a handheld puncher and then place the brad through.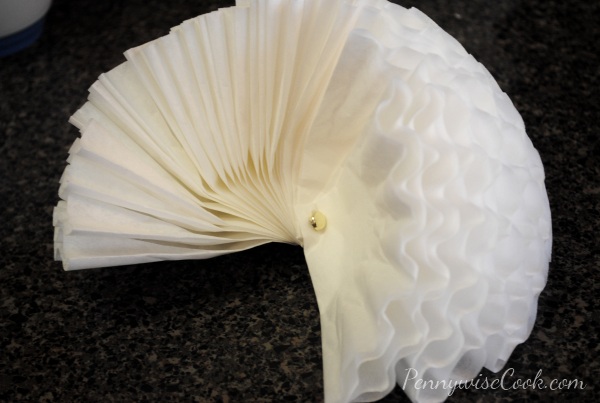 2) Continue doing this for all 22 of your coffee filters, fanning them out as you go. Don't worry about it being perfect, you'll be able to fix it at the end.
3) Once you've got them all together, bend the brad on the back and fluff and organize the flower like you desire.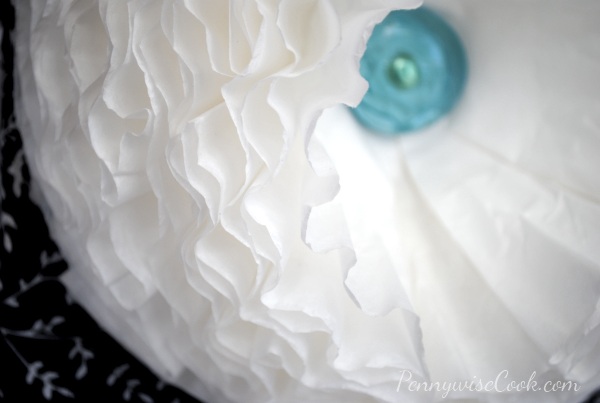 4) Hot glue your jewel or ornament to the middle to keep it all together and finish off your flower.
If you want to make a hanging pom pom with these, you simply tie a string to the back of the brad and hot glue two of these together. Beautiful decorations for a party!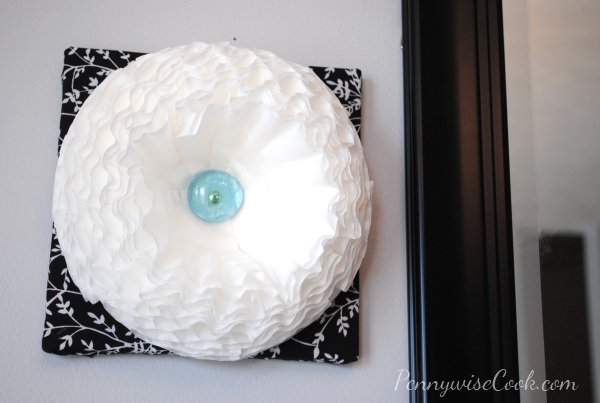 I hung a couple of these up next to the mirror in our kitchen. I just glued the flower to a small canvas ($1 at Dollar Tree) that I covered with a little fabric. It was fun. I got to use my staple gun. I always feel powerful with my staple gun.

You can also dye these to be any color you'd like. Place a little latex paint (your choice of color) into a bowl and water it down well. Dip the coffee filters into the water until it absorbs the color. Let it dry and assemble the flowers like above.
I'm going to have a party this summer and I plan to make a bunch of these to hang around that match the theme. I'll be sure to take pictures!
Like this post? SHARE it!