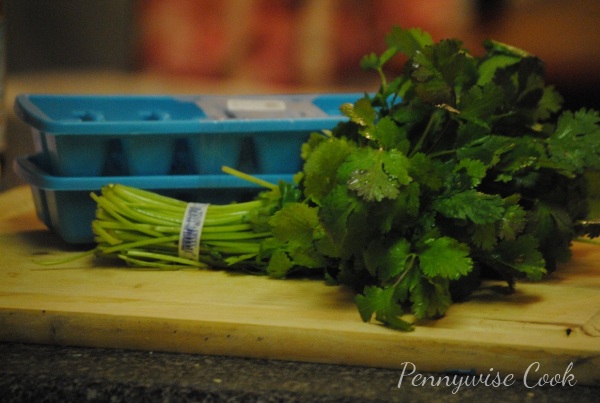 Standing there in the produce section seeing all of those fresh herbs, I think to myself, I'd buy tons of that if it would stay fresh longer. There is no doubt that fresh herbs add a lot to a dish. I love the crisp bite and beautiful green color that parsley can add to just about any meal. I was watching Barefoot Contessa the other day and she shared this amazingly genius tip for storing fresh herbs. I usually buy it for a particular dish and then it goes bad before I can ever use it again. Then I go and buy some again for the next meal. It's a continuous cycle that can really get costly.
Here's a trick for FREEZING your herbs and having them on hand for quickly adding them to your meal. You will need ice cube trays for freezing the herbs in. You can find these just about anywhere including Dollar Tree. They sell two in a pack for $1.
Rinse the herbs and dry well with a paper towel. Then roughly chop them up.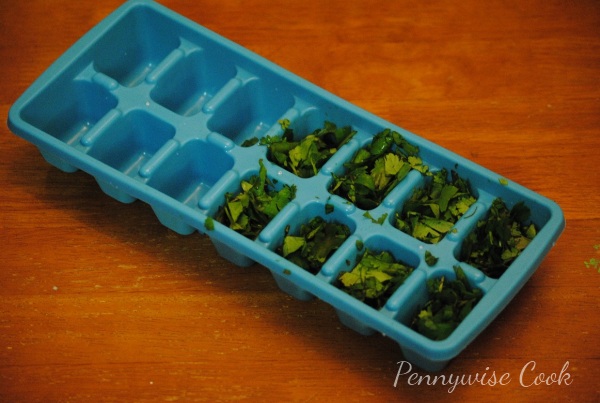 Spoon the chopped herbs into the ice cube tray and add a drop or two of water on top. Pop them in the freezer and voila! The next time that you have a meal requiring a fresh handful of herbs, pop some of your frozen herbs out and throw them in.
I have found that they generally keep their shape and color even after freezing. Barefoot Contessa didn't mention adding a drop or two of water to the herbs in the ice cube tray, but I find this helps to keep them together more in the freezing process. If the meal you are using your herbs in isn't a hot one (whether in the oven or on the stove) then you may want to thaw the herbs a little before hand. Otherwise, it thaws fairly fast in most. And I don't recommend keeping them frozen for more than a few months. They do tend to lose color after a few months. But a few months is better than a few days in the refrigerator!
Like this post? SHARE it!