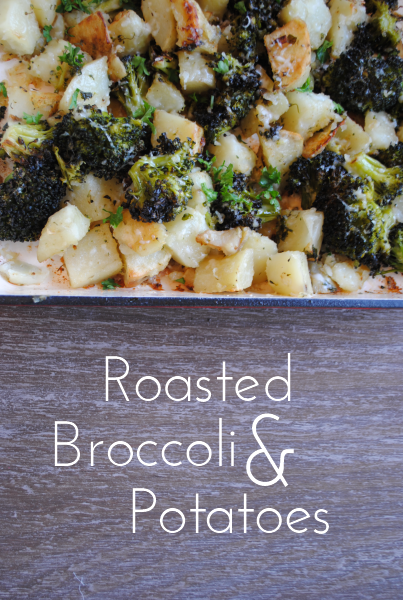 Some things are fantastic to buy in bulk. For instance, when there's a stellar deal on paper towels with coupons I stock up like nobody's business. Toilet paper also falls into this category. And then there are things like gigantic bags of salad that are on clearance. It's really cheap but won't last past tomorrow. You have to know when to stock up, when to freeze, and when to use.
Many times Aldi (my favorite go-to place for produce) has their broccoli, cauliflower, and potatoes on sale for cheap. You never know what to expect. You just check back during the week. The past couple weeks it's been a 10 lb bag of russet potatoes on sale for $.99. Who in their right mind would pass those up? And since this is one of those things that could go bad in a matter of days, I was thinking of what and how I could use them up.
I ended up throwing together these Roasted Broccoli and Potatoes. They go really well together and play nicely with garlic.
This recipe is simple to make and is fairly cheap as well. Plus, it's a great side dish for having company over.
Roasted Broccoli and Potatoes
This is a great way to use up russet potatoes and have your green veggies too.
Ingredients
2 Large Russet Potatoes, Peeled and cut into small chunks
2 Large Bunches of Broccoli, cut into bite size pieces
2 Large Garlic Cloves, Chopped
4-5 Tablespoons Fresh Parsley
3-5 Tbsp Grated Parmesan Cheese
Generous Abundance of Extra Virgin Olive Oil
Garlic Salt
Method
Preheat over to 450 degrees.
Place all ingredients except for cheese and olive oil into casserole dish.
Pour in generous amounts of olive oil and toss everything with it.
Bake for 20 minutes. Remove and stir.
Bake for 15 more minutes.
Top with Parmesan cheese and serve!
Notes
Try cutting your potatoes small. They will cook and brown faster.
http://pennywisecook.com/roasted-broccoli-and-potatoes/
This post may contain affiliate links. You can read more about this in my disclosure policy.
Like this post? SHARE it!