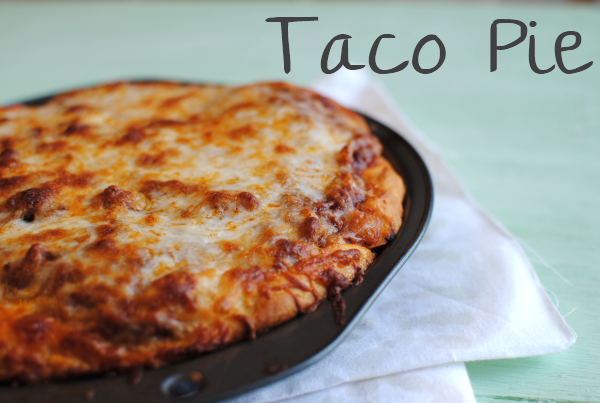 I was spending time with my mom recently when we dipped into her recipe box. It's funny how back when I was a teenager I'd see that box and it wouldn't mean a thing. These days it's like a goldmine to me! There's nothing like tried and true recipe that has been tested and passed around. I was in heaven going through many of the recipes that I remember and some that I don't. Though my mom was quick to tell stories about them. Isn't it great how food can always find it's way into a memory?
This Taco Pie recipe was among many that I got from my mom that weekend. I'm pretty sure that it's Jennifer's (my mom's friend) recipe, but there's no name listed so I'm going to go with that. Jennifer if you're reading, it was fabulous! While the pie itself doesn't exactly taste just like a taco, your toppings will give it that total taco flavor. But I honestly didn't mind because it was so tasty!
My 5 year old even got seconds…this is a HUGE deal at our table.

And this pie was so incredibly easy that I made it in like 30 minutes flat!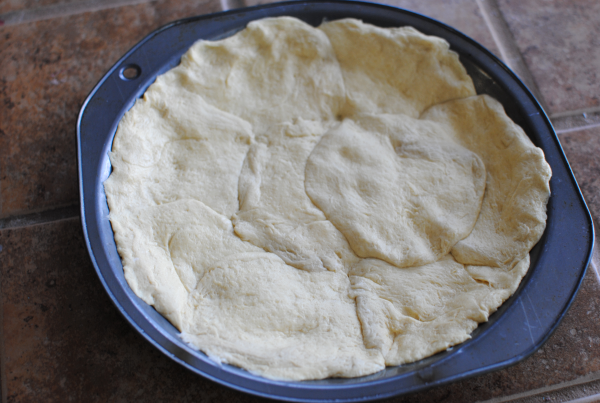 We get a little help from the store by grabbing a tube of biscuit dough. The Pillsbury brand tends to go on sale for $1 so keep your eyes open. Push the biscuits down into a pie pan and use your fingers to pinch it together to make it like a complete crust.
Brown a pound of ground turkey or lean ground beef along with a small chopped onion.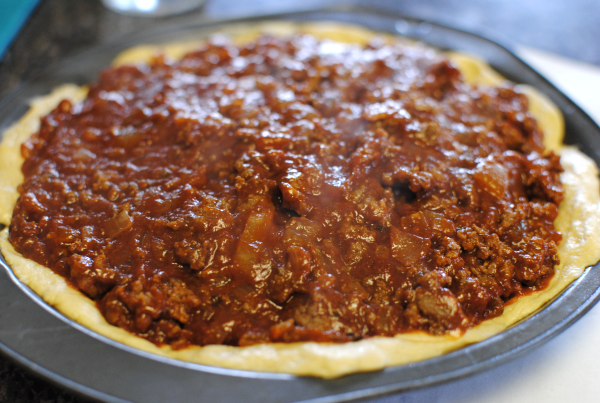 Then it's just a matter of draining the meat, adding a bit of water and tomato paste and simmering for a while. Then scoop into your biscuit pie crust, top it with some mozzarella cheese and bake for 15.
The only odd thing I found about this was the mozzarella cheese. I would normally expect cheddar on a taco, but I don't think that this recipe would have been as tasty with cheddar.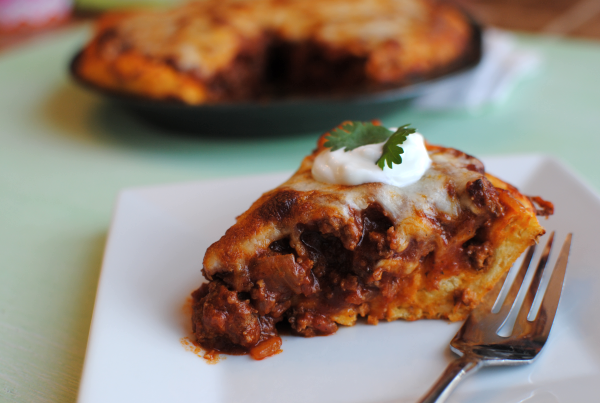 This simple yet delicious meal is ready in under 30 minutes!
Ingredients
8-10 oz Package Refrigerated Biscuits
1 lb Ground Turkey or Lean Beef
1 Small Onion, Chopped
3/4 c. Water
6 oz Can Tomato Paste
1 Package Taco Seasoning
1 Cup Shredded Mozzarella Cheese
Taco Toppings like tomatoes, lettuce, sour cream etc (optional)
Method
Preheat oven to 400 degrees.
Spray pie pan with cooking spray. Place the biscuits into a pie pan evenly around all sides and on bottom. Pinch with your fingers to create a complete pie crust.
Brown the meat and onion until no longer pink and drain.
Add water, seasoning, and tomato paste and bring to a boil. Then reduce heat and simmer for 10 minutes.
Spoon meat mixture onto biscuit pie crust and top with cheese.
Bake for 15 minutes or until cheese begins to brown.
Top with lettuce, green onions, tomatoes, sour cream, whatever you like!
Notes
I think it would be nice to add in some black beans to the meat mixture. Or if you're a vegetarian, you could omit the meat all together!
http://pennywisecook.com/simple-taco-pie/
Like this post? SHARE it!