Raise your hand if you like to make easy meals. *raises hand* I'm lucky to get dinner on the table by 8pm most nights. I had a little spurt where I was getting dinner ready around 5:30, but then I had my second kid and somehow the days got a lot shorter. I feel like there's a time burglar slowly stealing time. Do you ever feel that way? I'm fairly impatient too which makes it really hard to wait for things. Of course when I'm waiting it feels like time is moving slowly.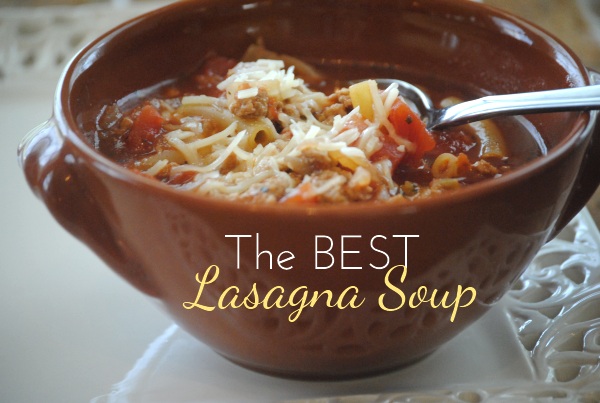 This soup is perfect for those days when you feel like time is moving too fast. When you don't have a minute to spare but want a hearty dinner, you might try this amazing soup. My mom shared this with me a few months ago and I've made it several times since then. It wasn't meant to be made in the crockpot, but I threw caution to the wind and made it that way anyways. It worked!
Not only is this an easy meal to throw in the crockpot, it's also low in calories. And we like low in calories don't we? And to top it all off, this soup is delicious! You'd never know that it was low cal or low fat. Those are the best kinda meals. And even the pickiest of eaters will eat this. My daughter ate every bite and I didn't even have to bribe her (I know!).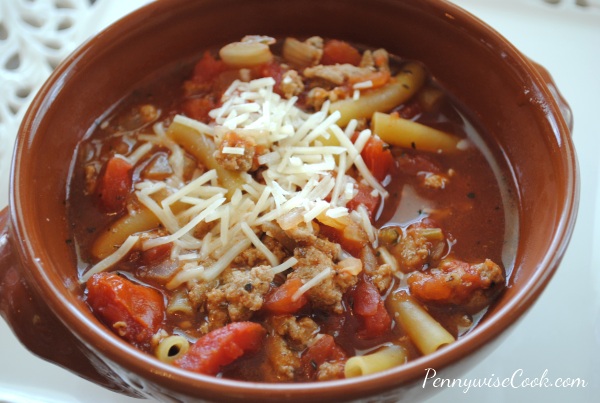 The recipe calls for spiral noodles, but I usually use whatever I have on hand. Although it does seem to look better with the spiral noodles. When making this in the crockpot, you'll want to throw everything BUT the noodles in to cook. Then in the last 10 minutes or so, throw them in to let them cook up. This is what I've found to be the easiest way to make it in the crockpot. Top it with some parmesan cheese and you have incredible lasagna soup! I'm not even just saying that. It really is the BEST lasagna soup. I hope that you try it!
Recipe courtesy of Taste of Home and my momma!
The BEST Lassagna Soup Ever
Transform your lasagna into soup and make it while you work!
Ingredients
1 pound lean ground beef (Preferably 90%)
1 large green pepper, chopped
1 medium onion, chopped
2 garlic cloves, minced
2 cans (14-1/2 ounces each) reduced-sodium beef broth
2 cans (14-1/2 ounces each) diced tomatoes
1 can (8 ounces) tomato sauce
1/4 cup tomato paste
2 teaspoons Italian seasoning
1/4 teaspoon pepper
2-1/2 cups uncooked spiral pasta
1/2 cup shredded Parmesan cheese
Method
Cook in a Saucepan

In a large saucepan, cook the beef, green pepper and onion over medium heat until meat is no longer pink. Add the garlic and cook 1 minute longer. Drain.
Stir in the broth, tomatoes, tomato sauce, tomato paste, Italian seasoning and pepper. Bring to a boil. Stir in pasta. Return to a boil. Reduce heat; cover and simmer for 10-12 minutes or until pasta is tender. Sprinkle with cheese.

Cook in a Crockpot

Place all ingredients minus the pasta and parmesan cheese into the crockpot. Cook on low for 6-8 hours or high for 4-6 hours.
In the last 15 minutes add in the pasta and cook until tender.
Sprinkle with cheese and serve!
Notes
The original recipe also called for 1 cup corn, but I didn't use it. Seemed a bit odd to me since you don't put corn into lasagna normally. I think it tasted just wonderful without it.
http://pennywisecook.com/the-best-lassagna-soup-ever/
Like this post? SHARE it!