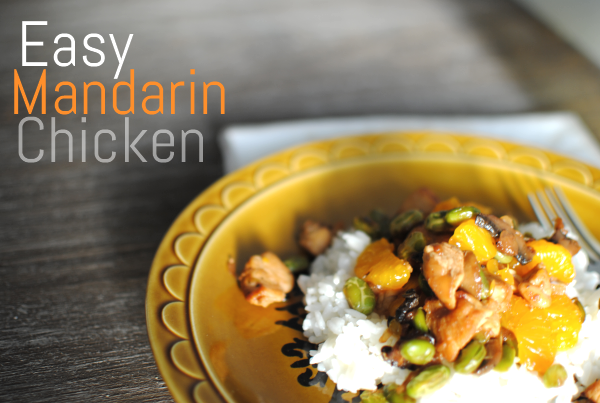 My girls have recently discovered mandarin oranges. Ever since I was a kid, I've always loved fruit in any form. Even canned fruit strikes my fancy every now and then. I picked up a few cans of mandarin oranges the other day to see if my girls would enjoy it as much as I used to. I think ended up rekindling my love for the fruit myself. And as expected, they absolutely loved them. I really need to find myself a good sale to stock up on them.
In keeping with their latest obsession, I decided to make something that showcased two things that I know they'll both like. Chicken and the new-found love, mandarin oranges.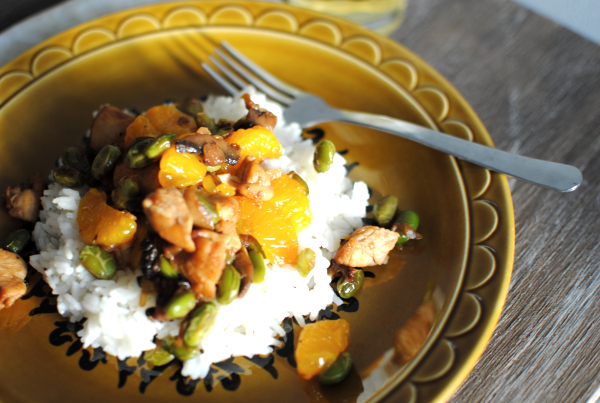 To my utmost surprise, my ENTIRE family (including my incredibly picky husband and 5-year old) loved this meal! The 1-year old even cleaned her plate.  I cleaned mine and an entire 2nd plate as well. Hubby was really concerned about the sweet oranges being used with savory chicken, but when he was done he told me that he thought it worked really well together. SCORE!
I used edemame to kick up the nutrition and hid mushrooms with the onions. The mushrooms were quite stealth and the kiddos loved the edemame! In fact, Addie asked me at one point what kinda beans they were. I told her edemame and she replied "I really like edemame!".
Those are words that I never expected to come out of my 5-year old's mouth…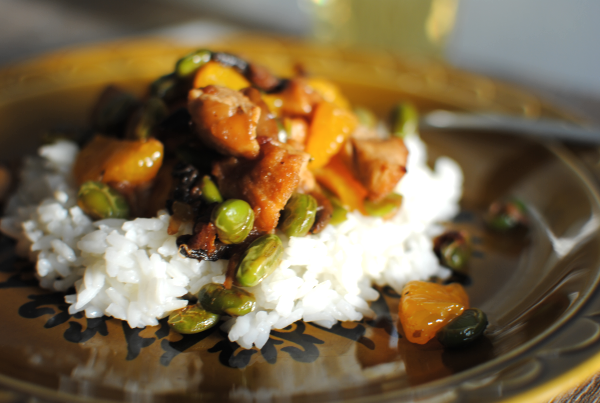 By the time dinner was over, I was floored. This was a meal that the whole family loved and it was actually healthy and good for them. That only happens in my dreams and on commercials doesn't it?
Recipe adapted from 366 Low-Fat Brand-Name Recipes in Minutes Cookbook.
In just minutes, you'll have a mouth-watering Asian meal with little effort!
Ingredients
1 11 oz Can Mandarin Oranges
2 & 1/2 tbsp Soy Sauce
2 Boneless, Skinless Chicken Breasts, Cut into Bite-size Pieces
1 Tbsp Canola Oil
1/4 Tsp Garlic Powder
1 Cup Chopped Onion
1 & 1/2 c. Frozen Edemame
8 Baby Bella Mushrooms, Sliced
Instructions
Drain oranges, reserving 3 tbsp of the liquid. Mix together the reserved liquid with the soy sauce and set aside.
Heat oil in a large skillet and cook chicken in the oil over medium-high heat until chicken is no longer pink. Remove chicken from skillet. Add in the onions, edemame and mushrooms. Cook until onions are tender.
Add the chicken back in along with the soy sauce mixture. Cook and stir to heat all of it through.
Gently stir in the mandarin oranges right before serving.
Goes well over rice!
Notes
If your group is not a fan of edemame, you can always use frozen snap peas in their place.
Teriyaki sauce can also be substituted in soy sauce's place.
The addition of a couple drop of sesame oil would also make a nice addition.
Be prepared for a quick meal! This one takes no time at all to whip up!
Like this post? SHARE it!