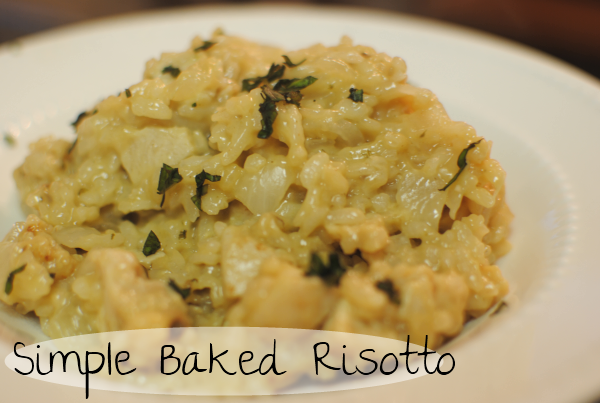 Please excuse the incredibly horrible picture. Once again, it was another night pic with horrible lighting. We're going to have to start eating dinner at lunchtime!
Rewind back a few years. I'm sitting in my living room watching (a favorite of our's) Hell's Kitchen. Like most episodes, all I hear is screaming about the risotto. But in my head, I'm thinking what in the heck is risotto? Maybe I'm just a bit sheltered or perhaps it's not common, but I had never ever heard of it before. To me, it seemed like a bunch of rice.
In reality, that's really all that it is. Just a really creamy and rich Italian rice that has to be stirred a lot. Creamy you say? Yes, creamy because of cheese and broth. Are you listening yet?
It wasn't until I took a trip to England that I got to actually enjoy a bowl of creamy risotto. It was at this glorious place that I got to try it. This is the Piazza inside the Corn Exchange in Leeds. It is one of the most beautiful places that I've ever stepped foot inside. Starting in the 1800′s as a place for the trading of corn, it's now a popular shopping center with a fine dining restaurant down below.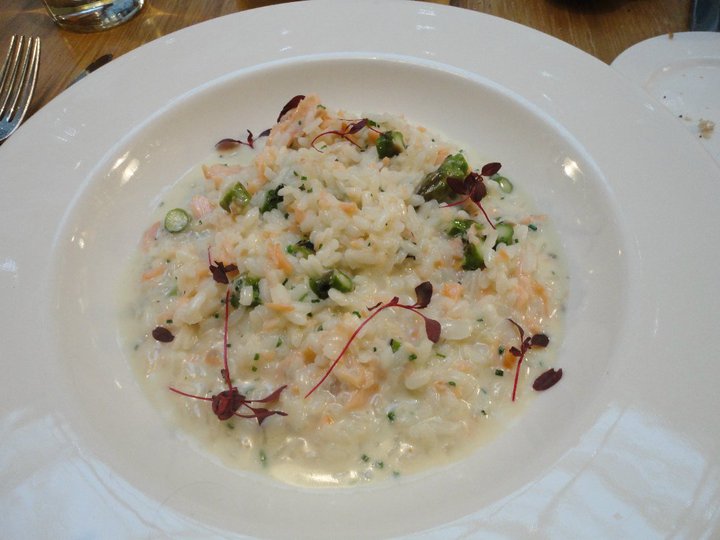 This is a picture of the Smoked Salmon Risotto with Chargrilled Asparagus that I had when we ate there. Doesn't it look divine? My risotto didn't look quite as amazing, but it did make me reminisce a bit about my trip.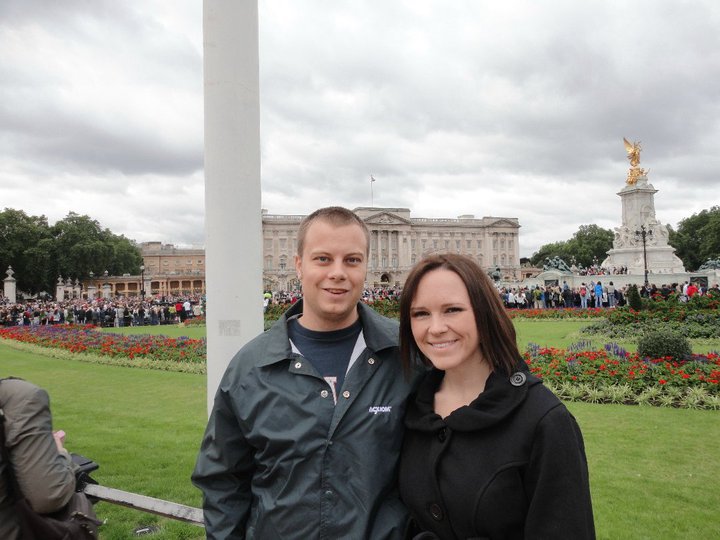 Here we were watching the changing of the guards at Buckingham Palace. One of the coolest experiences that I may ever have! I even messed with a few of the fuzzy-headed guards while we were there. In case you were wondering…..no. They did not move a muscle.
If I could, I'd be back in England in a heartbeat. So much history and interesting places to see. Oh yeah, and the food was incredible too!
Risotto is generally cooked in large skillet and tended to for a while. I just don't have the patience, so I took the easy way out…..in the oven. The entire family loved it! I was complimented not once, but twice for this one (it's a big deal at our house). The version that I made ended up being the main course since I put chicken in it. Though for many, it might just be a side dish. I did take a very big shortcut with this. I used Tyson grilled chicken cubes from the refrigerated section of the store. You could also use a rotisserie chicken if you want to pull it off the bone. Or perhaps just cook up your own chicken breast. Either way, chicken adds a meaty touch.
I don't consider myself to be an expert at risotto (or anything dish at that, well maybe pb&j). I've got some perfecting to accomplish on this one for sure. But it sure is tasty work!
Recipe adapted from My Recipes.
Recipe type:
Side, Main Dish
Forget stirring, whip up creamy risotto by utilizing the oven instead of your elbow!
Ingredients
1 and 1/2 c. Arborio Rice (or other short grain rice)
2 cups cooked and cubed chicken
1 small onion, chopped
2 Minced Garlic Cloves
1/2 c. White Wine
2 and 1/2 c. Chicken Broth
2 tbsp Butter
3/4 tsp salt
1/8 tsp pepper
1/2 tsp Italian Seasoning
1/2 c. Parmesan cheese
1/2 c. Mozzarella Cheese
Instructions
Preheat oven to 400°.
In a large high-sided skillet or dutch oven, melt butter. Place rice, garlic, and onion into pot and saute for about 3-4 minutes.
Stir in the wine, chicken broth, salt & pepper, italian seasoning and transfer to the oven. Bake for about 30-35 minutes until most liquid has been absorbed. Remove from oven.
Stir in the chicken and cheese until the cheese is melted. Serve immediately.
Notes
The texture should be creamy with a little liquid. Though mine ended up a bit sticky. Gonna work on it a bit more.
Have YOU ever made risotto, be it baked or the traditional way? I'd love to hear how it turned out!
Like this post? SHARE it!