How did your Valentine's Day go? Oh really? Uh-huh. Interesting… Well if you had a less than satisfactory day (or even if you had a great one), you might just want to dig into this little sumthin' sumthin' here…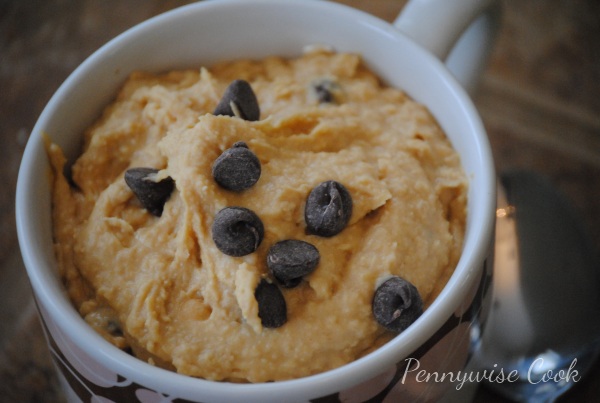 You are about to be amazed. How incredible does THAT look? Couldn't you just dive right in? Well you really can, because it's actually healthy. How many times have you been making cookies and stolen a bite or two of the dough? It's almost humanly impossible for me not to. That's probably why I don't make cookies that often. I'd be as big as a house. I digress…
This cookie dough "dip" has a secret and it's not going to tell anyone. I am- Chickpeas! Yes, that's right. Those little garbanzos that no one knows what to do with half the time actually add something nutritional and special to this dip. It's also been called "dessert hummus", but I'm not too keen on that title. There are a ton of different versions of this dip everywhere right now. They are all very similar either being very smooth or very chunky. With or without sweeteners. With or without oats. It's all a matter of taste. This recipe is the one that I enjoy the most, but you can feel free to adjust it to your liking.
Everyone always want to know what to dip these in. I've used vanilla wafers and graham crackers. And don't tell anyone (I'm totally going to look like a pig now), but you can also pile some into an ice cream cone and eat it like ice cream. I don't have ice cream in there with it, but that might be delicious too. I prefer the sugar cones over the others.
It's fantastic and I can say that on my scouts honor. My husband and I devoured an entire bowl of this the other night. Not needing crackers or cookies to dip in it, it's lovely right out of the bowl. You will want to make this tonight, I can almost guarantee it. Here's the recipe, exactly as I made it.
You can find similar recipes for "dessert hummus" at Nourishing Flourising, Chocolate Covered Katie and Food Doodles. All fabulous! This one is kind of a mixture of those.

[amd-zlrecipe-recipe:5]
This post may contain affiliate links. You can read more about this in my disclosure policy.
Like this post? SHARE it!